If we could gather some of the fastest horses in history, who do you think would win in a race between Secretariat, Man o' War, Winning Brew, Citation, and American Pharoah? Even comparing their respective times and track records, we can't know for sure which was the fastest horse ever, since different horse racing eras had varied racing surfaces and paces, affecting speed. Also, variation in overall race records, the quality of the horses they competed against, and the extent of their wins make comparisons difficult. But however you look at it, these five horses are indisputably among the best racers of all time.
Secretariat (1970 to 1989)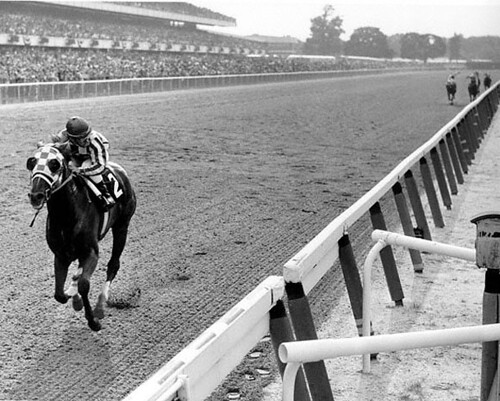 Secretariat might be the best-known racehorse in history, and with good reason. In 1973, the majestic chestnut thoroughbred known as "Big Red" became the first Triple Crown winner in 25 years, following Citation's win in 1948. Three years old at the time, the stallion set records in all three races, the Kentucky Derby, Preakness Stakes, and Belmont Stakes, all with jockey Ron Turcotte. His records still stand for the Kentucky Derby, the Churchill Downs track record for 1 1⁄4 miles, and for 1 1⁄2 miles on dirt in the United States. He won the Belmont Stakes by 31 lengths, an astonishing feat that's often cited as one of the greatest horse races ever.

He was honoured with Horse of the Year twice at the Eclipse Awards and was named in the National Museum of Racing and Hall of Fame in 1974. His legend lives on in the 2010 Disney movie Secretariat and on his official website, as well as the numerous major stakes winners he sired.
Man o' War (1917 to 1947)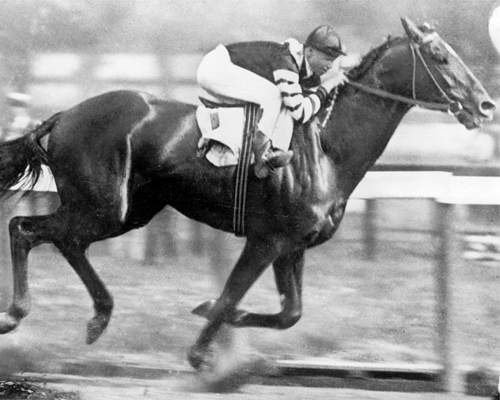 Though Secretariat may currently be considered the most famous racehorse in history, Man o' War actually tops him in some "Best of" lists, including the influential "Top 100 US Racehorses of the 20th Century" list from Blood-Horse magazine. Like Secretariat, his nickname was also "Big Red." Still, unlike Secretariat, he never won the Triple Crown, simply because he never raced in the Kentucky Derby.

The chestnut stallion won 20 of the 21 races in his career, losing his only race to a horse fittingly named Upset. Man o' War was named outstanding athlete of the year by The New York Times, along with Babe Ruth, in 1920. In 1957, he was also inducted into the National Museum of Racing and Hall of Fame. Among his many descendants, he was grandsire to Seabiscuit, another legendary racehorse.
Citation (1945 to 1970)
Citation was the 1948 Triple Crown winner and according to ESPN, was the first horse to win a million dollars, earning slightly more than that in 45 races over four years and crossing the golden barrier at the 1951 Hollywood Gold Cup.

He won 32 of his races, including 16 in a row in major stakes competitions. When his regular jockey, Al Snider, died, one of Snider's best friends, Eddie Arcaro, stepped in to lead the bay stallion to further victories.

He was named Horse of the Year at the 1948 Eclipse Awards, inducted into the National Museum of Racing and Hall of Fame in 1959. He placed third on the Blood-Horse magazine top 100 list. His dam was a thoroughbred named Hydroplane, brought to the United States from Great Britain during World War II. How fast was Citation? The Cessna Citation jet aeroplane was named after him.
American Pharoah (2012 to Present)
This bay stallion stormed onto the scene and became the first winner of the Grand Slam of thoroughbred racing. He not only won the Triple Crown, the first horse in 37 years to achieve that feat, but also the Breeders' Cup Classic in 2015, with jockey Victor Espinoza. That grand slam earned him the 2015 Horse of the Year honour from the Eclipse Awards and the National Thoroughbred Racing Association's Moment of the Year. He won nine races in his career and a total of more than $9 million.

He's now living in Kentucky and siring other potential champions in his retirement.
Winning Brew (2006 to Present)
This bay filly thoroughbred holds the Guinness World Record for fastest speed for a racehorse over two furlongs, clocking in at 70.76 kilometres per hour at the Penn National Race Course in Pennsylvania. She was two years old at the time, trained by Francis Vitale, and took 20.57 seconds to finish the quarter-mile. Her overall career doesn't match the prowess of Secretariat or Man o' War, with just nine races and two wins to her name. Still, there's no denying that Guinness Record. Another Guinness Record belongs to Stone of Folca, who is cited as the fastest racehorse over five furlongs with a time of 53.69 seconds.
What Makes a Racehorse Fast?
One factor in a horse's speed is genetics. That's why so many horse racing champions are also some of the best sires or dams of other winners. After centuries of selective breeding, thoroughbreds are the fastest horses, and stallions are generally quicker than fillies, which is why all the horses above are thoroughbreds and only one a filly.

According to research, about 80% of today's thoroughbred racehorses descend from an unbeaten British horse named Eclipse who lived in the 18th century. He retired after less than two years because of a shortage of races to enter; no one was betting against him.

Researchers found that what made him so special was his averageness; that is, his body shape, leg length, everything about his body was in the middle of the normal range, leading to a perfectly balanced speed machine. He has had such an influence on horse racing that the American Thoroughbred horse racing awards, the Eclipse Awards, are named after him.